News
MENS SANA IN CORPORE SANO
The multidisciplinary training of Luna Rossa Prada Pirelli sailors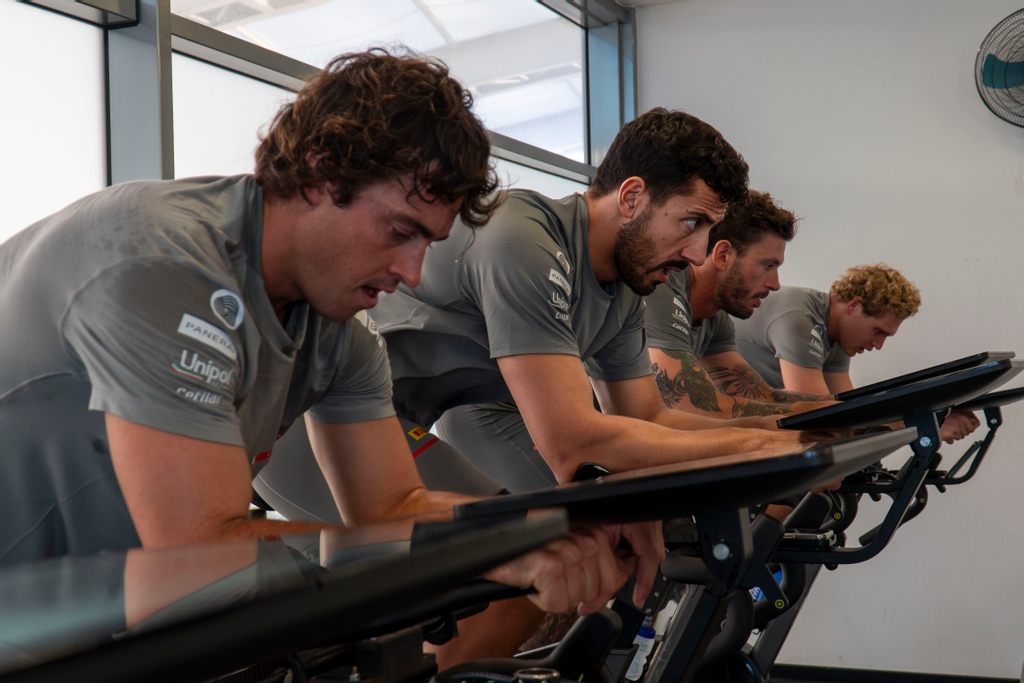 Agility, responsiveness, mental clarity and muscular power are the main characteristics that the Luna Rossa Prada Pirelli sailing team needs to manage the physical and psychological effort required during the America's Cup races on board 75 feet flying monohulls. These skills are developed and strengthened day after day thanks to a training program tailored to the different roles on board.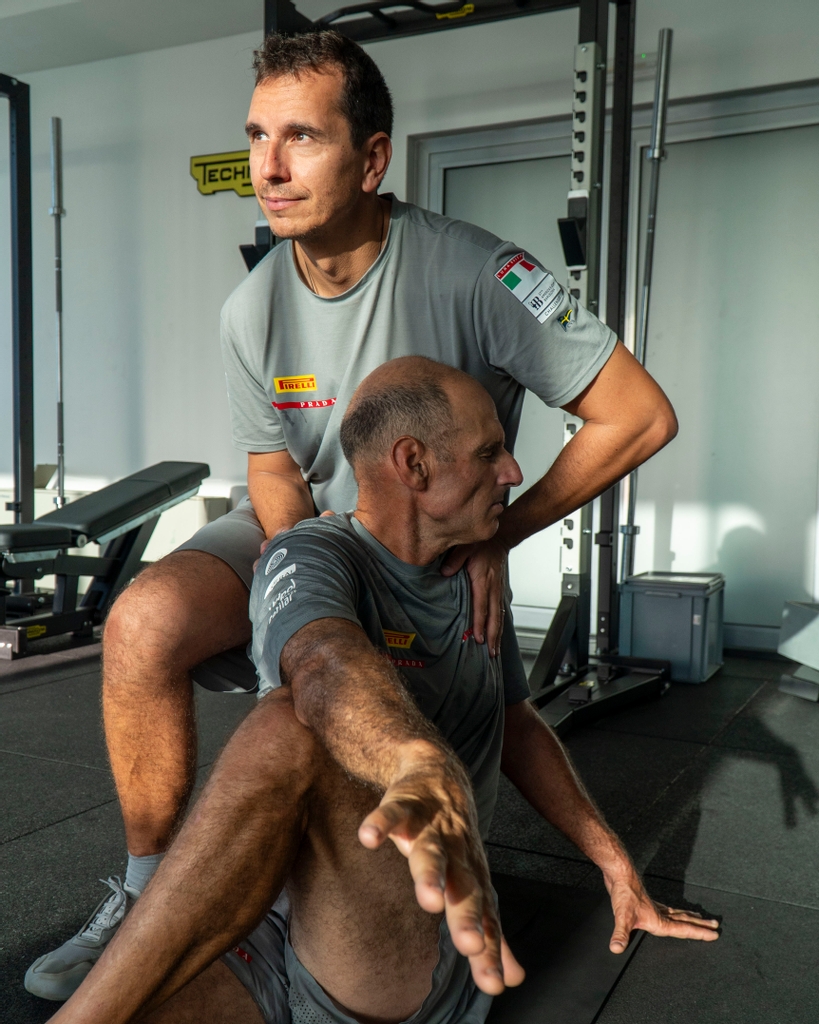 The best person to describe the sailing team's athletic preparation is Stefano De Pirro, Luna Rossa Prada Pirelli's physiotherapist and athletic trainer: «Let's start by saying that the sail crew consists of two groups: one with the four afterguard sailors (two helmsmen and two trimmers) and one formed by the four cyclors» explains De Pirro. «These athletes, required to provide energy through the bikes, are the 'muscles' of the boat and will require a different preparation from the rest of the crew who do not have to generate power. In this America's Cup edition we are collaborating with our 'Human Performance Partner' PharmaNutra, which not only supports us with its brand of excellence (Cetilar), but also with a new range of supplements and a team of professionals (trainers and doctors) who help us to manage the whole process, from training to performance on the boat, in the best possible way».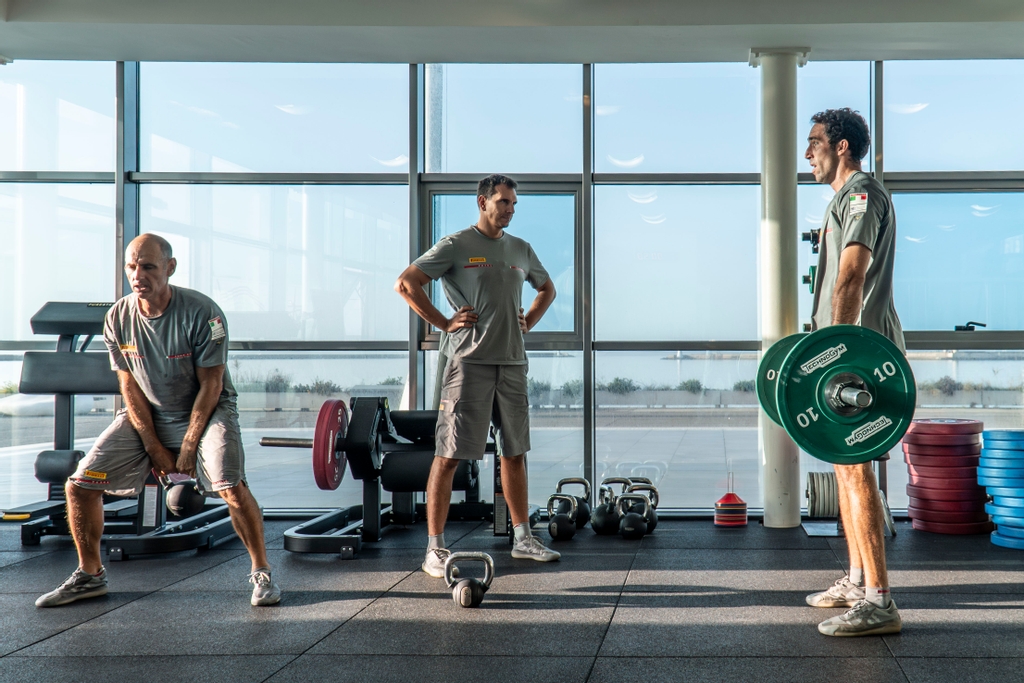 The onshore training program is modulated on the sailing schedule and takes into account the various sessions and people. Generally a typical day for the sailing team starts at 07.30 (or 07.00 if road cycling session is planned). The appointment is at the gym, where the guys are divided into two groups (that will rotate): the cyclists go straight to the bikes (custom-developed for Luna Rossa Prada Pirelli by Technogym), while the others carry out aerobic exercises, focusing on coordination, reflexes and reaction. After about two hours of training they move on to the warm-down phase, followed by a shower and breakfast. At this point, the boys either go to the boat or to their respective departments to support the other team members.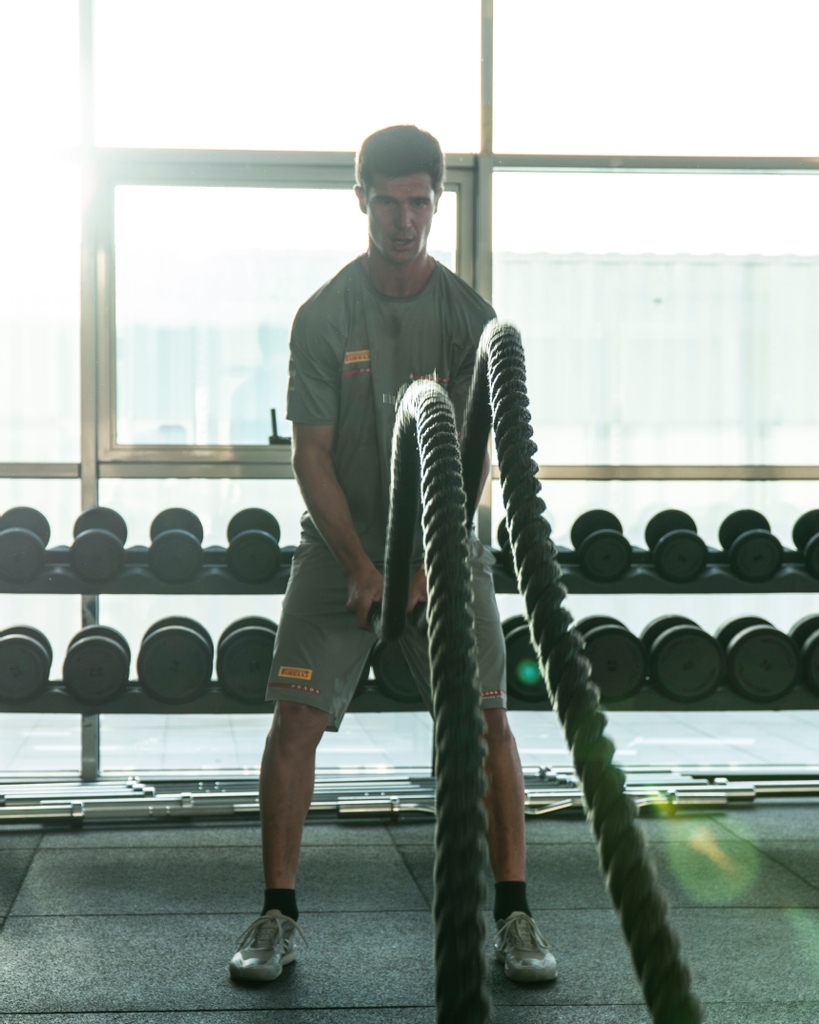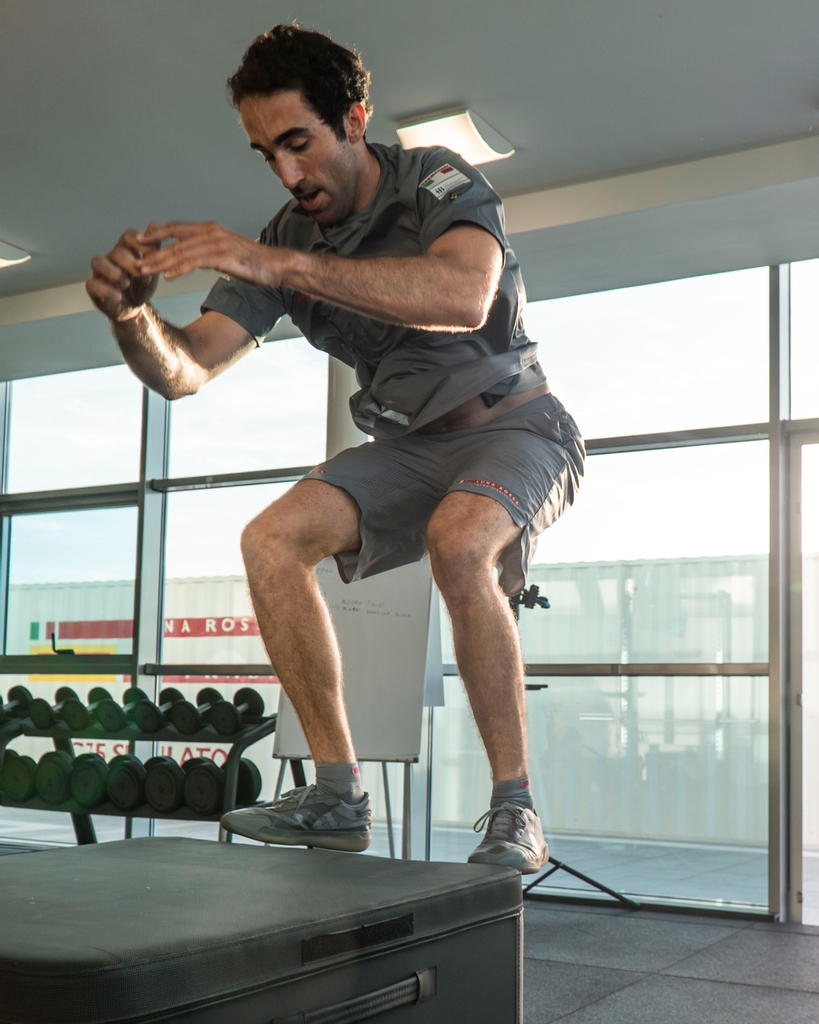 Based on the daily program (which is also linked to the water activities), training resumes at 4 p.m., when the weightlifting phase for the cyclists begins. «The main difference between a 'pure' cyclist and a Luna Rossa cyclor is simple», he continues: «while a Giro d'Italia professional has to maintain (and manage) his energy for hours and hours, the cyclors are called upon to perform a huge effort with 'explosive' peaks that equal those of the cyclist, but are concentrated in time, because a race lasts on average 25 to 30 minutes. Not to mention that road cyclists weigh much less than boat cyclists...».
So strength and endurance must be maximized, but not only. Thanks to PharmaNutra's 'Human Performance' program, the concept of training assumes a new extended dimension that embraces various techniques aimed at the nutrition and training of body and mind as a whole.
«Training is optimal when it creates team spirit and is stimulating, fun» De Pirro continues; «doing the same thing over and over again every day risks boring the guys, making them lose concentration and nullifying the result. This is why we decided to add some different disciplines (managed by instructors outside the team) to the standard program, such as Yoga or Martial Arts. These are conducive to team spirit but are also very useful for mobility (especially for hip and pelvis), reflexes and coordination. Even the swimming pool, where we normally simulate safety techniques at sea and do cardiac and apnea activities to increase lung capacity, can occasionally become a place of aggregation and release through a game of water polo: in the end the guys work, train and also have fun. Not to mention the fact that maintaining a healthy competition within the team is always useful to keep the adrenalin level high».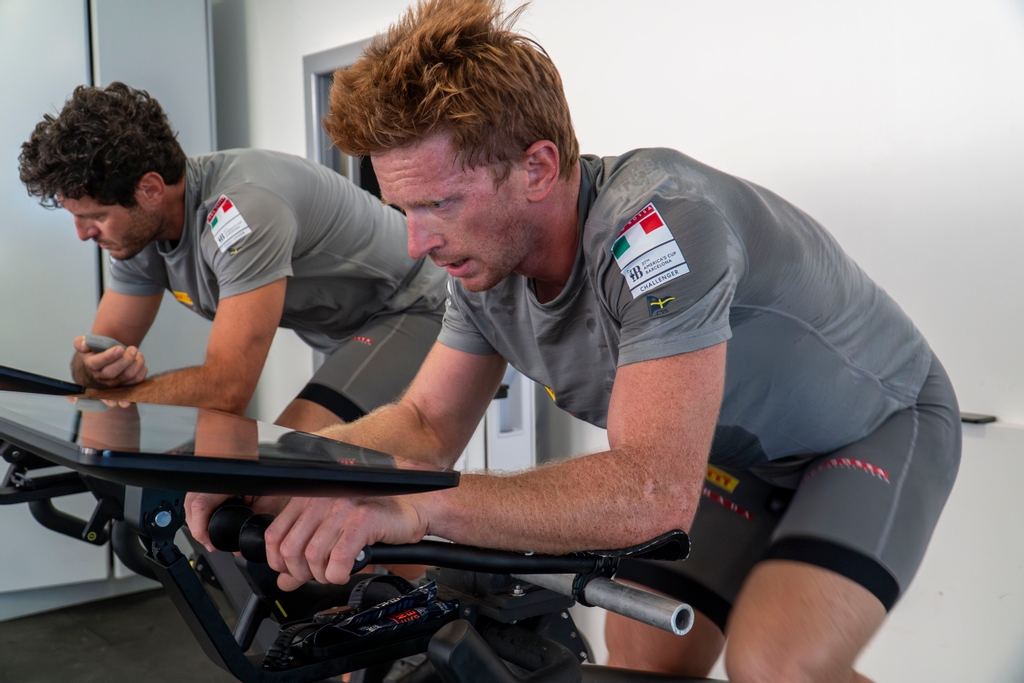 The before and after of a training session are very important aspects for De Pirro who, coming from professional tennis, is well aware of the importance of prevention and recovery: «No matter how short the races are, sailors have to face two regattas a day in uncomfortable and unnatural positions which put a strain on their joints, especially those of cyclists who use an enormous amount of muscle mass. Therefore, a physical preparation that strengthens not only mobility but also helps prevent injuries is essential. Another very important aspect is the athlete's physical recovery after a race: if a cyclist has to perform at his peak for 20' / 30' twice a day and then the next day and the day after that, the speed at which his body will be able to recover after such an explosive performance becomes crucial. My job is to make available to the team the experience and various techniques I have developed over many years of working in tennis because, in the end, there is so much in common».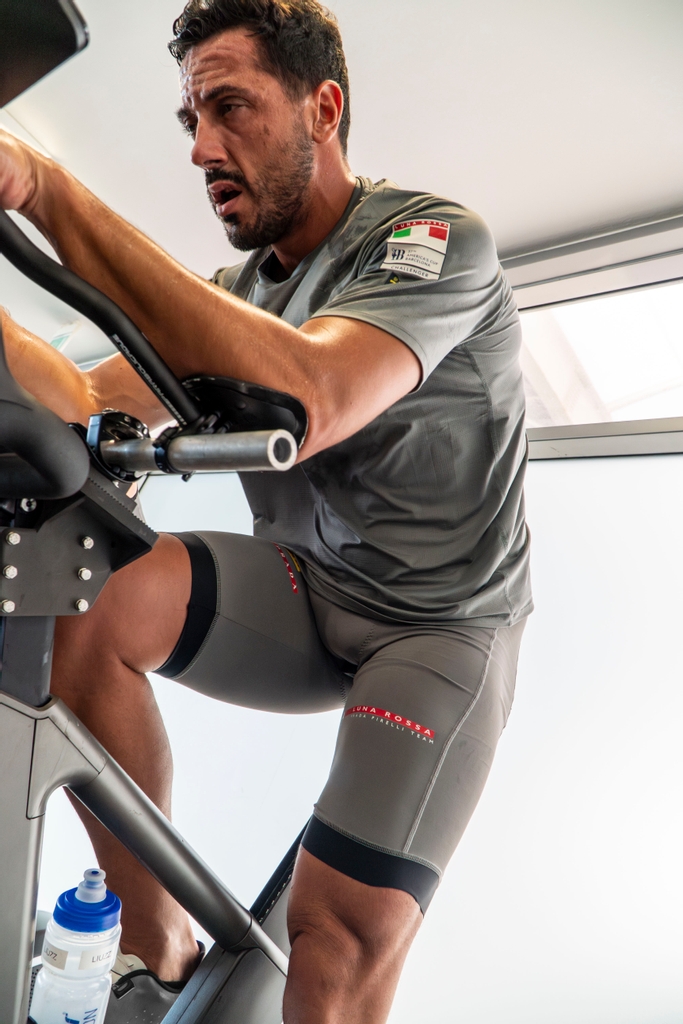 If a well-trained body is mandatory for racing on an AC75, a rational, sharp and balanced mental approach can change the outcome of the race. And the quality of team life: «It's not just about the competition and the ability to make key split-second decisions, it's also about being able to live with the 100-plus other people who are part of the team and with whom you relate every day», says the trainer. «If we look at the sailing team, we have sailors of very different ages, backgrounds and experiences, but it is important that a feeling is created, that there is harmony, cohesion, respect. Without forgetting that being a sports team, one must also know how to handle victories and accept defeats in the most practical way possible. This is why PharmaNutra supports us with a team of doctors, including academics, who work on the mental aspect (sleep and rest, mindfulness, meditation, etc.) to improve both self-awareness, thus performance in regattas, and interpersonal relations within the team».